Hoy Road is a quiet country lane where you can take a leisurely stroll and enjoy some wonderful vistas.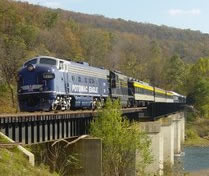 Take a trip back in history and nature on the Potomac Eagle Scenic Railroad's vintage train, which follows the South Branch of the Potomac River as it cuts through the mountains, creating The Trough, where American bald eagles nest. Excursions run weekends May through September, daily in October, and on special occasions in November/December.
Guests have seen the eagles either in their nest, soaring over the mountains, or diving for fish in the river, on nearly every ride on the rail excursion.
Among the many history events to enjoy here is Family Frontier Day at Fort Edwards, a French and Indian War era site in Capon Bridge, where re-enactors demonstrate period weapons, tools and crafts.